The Rich And The Poor
A Story About A Poor Girl Who Wonders The Streets Of A Rich Girls Town. The Rich Girl Meets The Poor Girl. The Two Become Best Friends After A While.
Coming Soon..
This Will Be A New Show To Tower TV Soon...
The Release Date Is Not Available Yet


TOWER TV 2.0
Powered by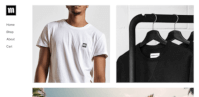 Create your own unique website with customizable templates.